Wireless Credit Card Processing Machine
Does your small business need a wireless credit card processing machine, also known as a wireless card reader? Are you tired of the customer service, chip card declines or pairing problems with your current wireless credit card processing machine. Or are you just tired of sticking the wobbly card reader in your phone? Well you may want to check out SumUp.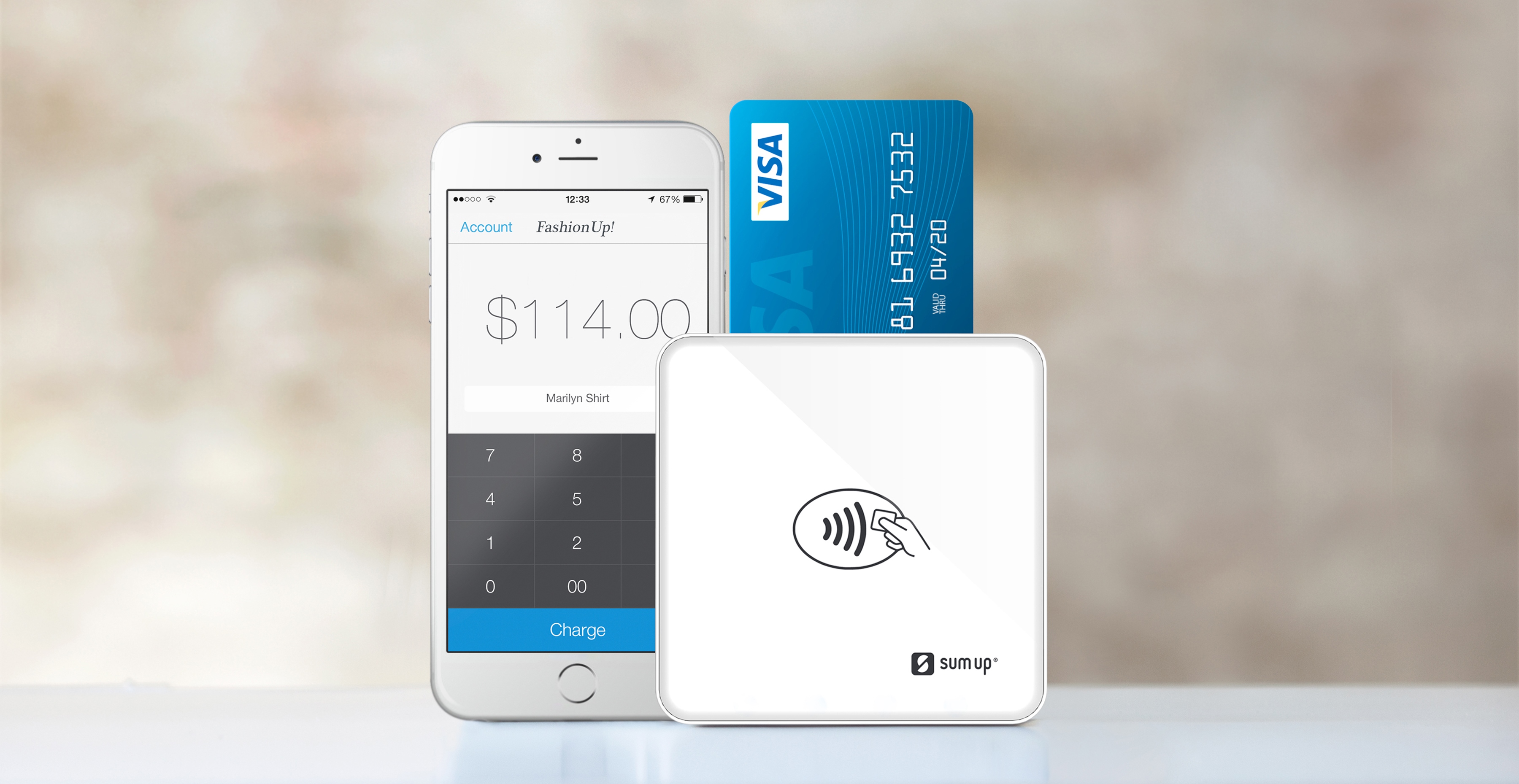 Considered by many to be the best wireless card reader in its class, SumUp is the leading mobile point-of-sale (mPOS) company in Europe which is now quickly spreading through the United States. Credit cards are either inserted, swiped or taped to process a transaction and the customer signs on the screen with their finger. Merchant are also happy to get fast payouts in 1 to 2 banking days into their bank accounts.
Businesses can accept all debit and credit cards, including Visa, American Express, Diners, Discover, and MasterCard. SumUp allows merchants to accept all types of payment, including chip cards, older magstripe cards, and contactless NFC (near field communication) payments. There is no need to switch between terminals, the SumUp wireless terminal handles all forms of payment. The customer has the choice of receiving a receipt via email or text message.
The company which started about 5 years ago built its payment service from scratch and created a unique device to work with the smartphone, allowing small merchants to accept card payments anywhere they have a signal. SumUp, Inc., has an impressive global reach and is active in 31 countries, including Germany, the U.S. and Brazil, with hundreds of thousands of small businesses around the world relying on SumUp to get paid.
2.75%
TRANSACTION FEE
$0
MONTHLY COSTS 
 Mobile Friendly Virtual Terminal (for card not present transactions) and SMS Payment transactions are charged at 2.95% + $0.15.
No Other Recurring Costs Whatsoever!
Wireless Credit Card Processing Machine Authorizations and Certifications
SumUp is authorized as an Electronic Money Institution by the Financial Conduct Authority (license no. 900700) in the UK and is EMV (Europay, Mastercard, and Visa) and PCI-DSS certified, ensuring that payments are processed in accordance with the highest security standards. With impressive credentials like that you can see why it is so widely accepted

SumUp's proprietary, end-to-end payments platform is the first fully-certified EMV mPOS system in the world to cover the entire payment process: card terminals, Android and iOS mobile apps, a payment processing platform and risk and anti-fraud solutions. SumUp is also the only mPOS provider to design and develop its own EMV card terminals.
The SumUp Air Card Reader is one of the most secure methods of card payments and has received full certification from a range of regulatory bodies, including:
PCI PTS V4.0 Certified, SRED EMV Level 1 & Level 2 certificates Mastercard Pay Pass, Visa Pay Wave, American Express Expresspay MasterCard TQM MasterCard TIP, Visa ADVT certified Visa Ready certified
Do I Have to Use the SumUp Card Reader Every Month?
Small seasonal businesses will especially appreciate this. Even if you don't use the card reader for several months, they will not cancel your account or charge you for those inactive months. Remember, there are no monthly fees, they just charge you per transaction. However, according to their terms and conditions, if there is no activity in your SumUp account for two (2) years, consecutively, they will send a notification to your registered email address and in case you do not respond to the notice within thirty (30) days and state that you want to keep your account, they will automatically close your account. Seems fair enough.

Restricted Businesses and High-Risk Businesses
Signing up for an account is easy and done online with no paper applications. Their pricing is straight forward and there are no hidden fees.Using SumUp requires a compatible mobile device and Internet connection, as do all wireless credit card machines or mobile card readers.  

Not all business will qualify to process transaction on SumUp mobile card reader. SumUp operates under strict conditions imposed by the financial regulator, the card schemes (Visa, MasterCard, etc. ), and the acquiring bank—who acts as a gateway to the card services, so they are not able to support every business model.
For instance, some business that will not be able to get a SumUp account include businesses involving content that is subject to the protection of minors or involving or being connected to any illegal content.  Likewise, businesses related to gambling services, whether illegal or not, under any applicable laws, businesses that are related to adult entertainment and businesses that are related to weapons or illegal drugs or products will not be able to get approval for a SumUp account. 
Do Your Homework Before Purchasing a Wireless Credit Card Processing Machine
There are a number of choices to choose from and it depends on the size of your business, the volume of credit card payments you take, whether you are a startup business and where you want to take payments.  For Instance, if you have a high volume business at your bricks and mortar store, but occasionally do parties, country fairs or work in the field, then you may use one solution in-store and SumUp for when you are out in the field. Here are some other wireless credit card processing machine choices we advise merchants on which provide great customer support and are well-accepted in the industry. 
Compatible Devices for your Wireless Credit Card Processing Machine
Compatible Apple devices without iOS update

·

        

iPhone 5s

·

        

iPhone 5c

·

        

iPhone 6

·

        

iPhone 6 Plus

·

        

iPhone 6s

·

        

iPhone 6s Plus

·

        

iPhone SE

·

        

iPhone 7

·

        

iPhone 7 Plus

·

        

iPod Touch 6G

·

        

iPad Air

·

        

iPad Air 2

·

        

iPad Mini 2

·

        

iPad Mini 3

·

        

iPad Mini 4

·

        

iPad Pro (12.9")

·

        

iPad Pro (9.7")
Compatible Apple devices if iOS is updated to iOS 8.0 or higher
·

        

iPhone 4s

·

        

iPhone 5

·

        

iPod Touch 5G

·

        

iPad (3rd generation)

·

        

iPad (4th generation)

·

        

iPad Mini 
Tested Android devices
Most Android devices should work with the SumUp card reader. The minimum Android operating system (OS) required is 4.4 along with Bluetooth 4.0.
Identify and Update your Android Version
Requirements for SumUp Air
§  Bluetooth 4.0—to connect wirelessly with the reader
§  Apple device: operating system iOS 8.0 or higher—to use the SumUp App on your phone
§  Android device: operating system Android 4.4 or higher—to use the SumUp App on your phone 
So if you are looking for a wireless credit card processing machine for your small business that has fast payout times of 1 to 2 banking days instead of 3 or 4 days, you should give this one a try. Contact us for special pricing of $25.00 for the card reader but only good through December 31, 2017. If your business is likely to do more than $10,000 in credit card processing per month you may want to talk to us about zero cost credit card processing and see which is right for your business.
 Powered by NXGEN Payment Services, a Registered MSP/ISO of Elavon, Inc. Georgia.